Welcome to the world of pickleball rebounders – the unsung heroes of solo practice. Whether you're looking to build your own pickleball rebounder or explore the highest-quality rebounders available on the market today – you're in the right place!
Join us as we dive deep into the world of the best pickleball rebounders, bringing the court right to your doorstep! Get ready to amp up your pickleball game to the next level with this essential piece of pickleball training equipment. Whether you're a club player or a home player, a rebounder can help you develop your pickleball skills. Let's bounce!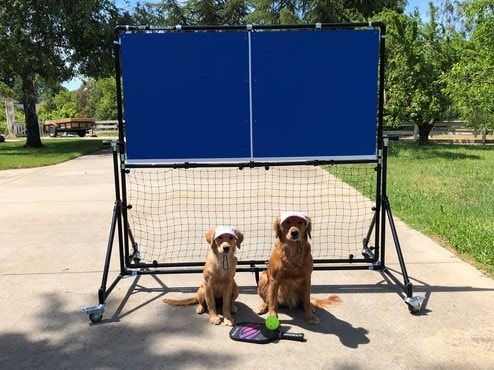 Who Should Buy a Pickleball Rebounder?
Pickleball rebounders are ideal for all skill levels. Beginners can learn basics, while intermediates refine consistency. Advanced players find them useful for intensive training. Coaches and racquet training specialists offering training programs also find pickleball rebounders an effective tool for practicing various game scenarios.
Pickleball Rebounder Nets Vs Pickleball Rebounder Wall
Deciding between a pickleball rebounder wall and a net depends on your personal needs. The rebounder wall (pickleball backboard or pickleball practice board), provides a solid and predictable return. It is perfect for beginners trying to nail down specific shots. On the other hand, a net-based rebounder offers a bit more unpredictability in returns, simulating real game scenarios.
Top Pickleball Rebounders Review
Let's now review the top pickleball rebounders of 2023. These popular models are renowned for their quality, durability, and performance. We'll delve into each model's details.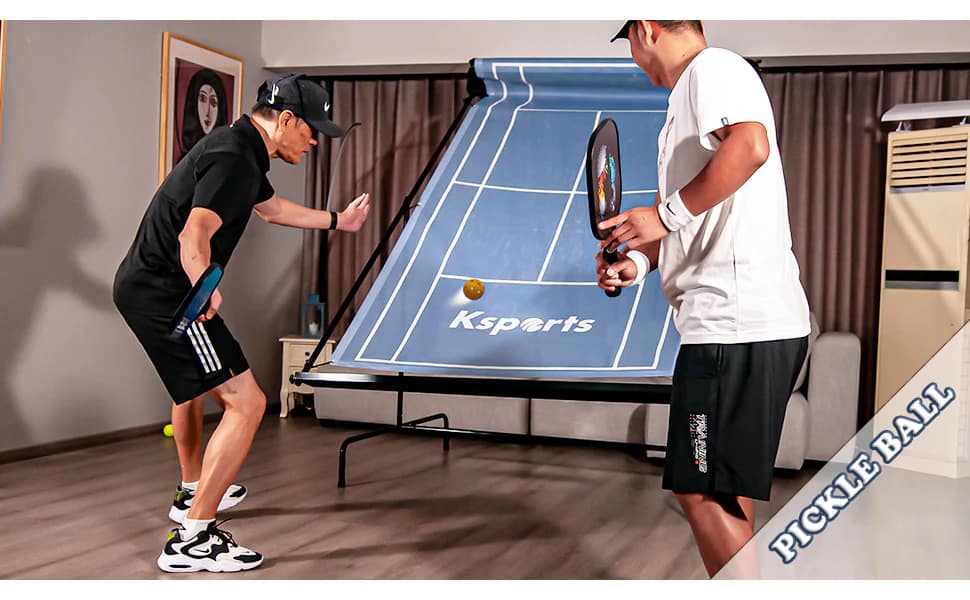 | Features | Description |
| --- | --- |
| Material | Alloy Steel |
| Multi-Sport Use | Tennis, Pickleball, Padel, Squash, Racquetball, Table tennis |
| Indoor/Outdoor Use | Yes |
| Assembly | Easy and quick assembly and made with locking pin joints |
| Durability | Made with polyethylene terephthalate and quality steel |
| Weight | 34.6 pounds |
| Wheels | No wheels |
Ksports Pickleball Rebounder Feautures
The Ksports Rebounder scores top marks for its comprehensive blend of functionality, durability, and simplicity. The sturdy design paired with an easy assembly process makes it a practical and versatile option for a wide range of users.
An added advantage is the ability to adjust the strappings on the bungee cord positions. It offers variable ball speeds, although the angle of the main frame remains fixed.
Despite its durability, the Ksports Rebounder is quite portable, making it a unique offering in the pickleball market. It boasts a natural and consistent bounce, mimicking real game scenarios.
However, some users may find the initial assembly process a bit challenging. But with a careful reading of the instructions, it can be easily overcome.
Pros
Excellent build quality and durability.
Great value for money.
Consistent and natural bounce.
Adjustable tension to simulate harder shots.
Carry Bag
Available in two sizes: Large and Regular
Cons
Assembly can be challenging.
Occasional need for net tension readjustment.
| Features | Description |
| --- | --- |
| Material | Powder-coated steel frame and durable net |
| Multi-Sport Use | Tennis, Pickleball and other racquet sports |
| Indoor/Outdoor Use | Yes |
| Assembly | Easy and quick assembly (no tools required) |
| Durability | Sturby construction for long-lasting performance |
| Weight | 35 pounds |
| Wheels | 4" smooth rolling locking wheels |
Perfect Pitch Rebounder Feautures
The Perfect Pitch Rebounder sets itself apart with its adjustable tension settings. This feature allows users to customize the level of challenge in their practice sessions.
It comes equipped with smooth rolling locking wheels, significantly enhancing its mobility. This feature is particularly beneficial for trainers, coaches, or pickleball players who frequently move their gear between locations. This easy maneuverability, coupled with its robust build, ensures this rebounder can withstand regular transport without compromising on performance or durability.
However, the assembly process could be less complex. Some users have reported difficulties following the instructions.
Pros
Durable construction that withstands rigorous playing.
Realistic, consistent bounce for effective practice.
Adjustable tension feature that grows with player skill level.
Smooth-rolling locking wheels for increased mobility.
The frame is built to resist rust and corrosion, promising longevity.
Cons
High price.
Carrying bags need to be purchased separately.
The potential need for frequent tension adjustments.
Some users raised concerns about net durability over time.
| Features | Description |
| --- | --- |
| Material | High-quality netting and metal frame |
| Multi-Sport Use | Tennis, Pickleball and other racquet sports |
| Indoor/Outdoor Use | Yes |
| Assembly | Easy assembly and disassembly |
| Durability | High |
| Weight | 23 pounds |
| Wheels | 4" locking wheels |
Oncourt Offcourt Pickleball Rebounder Net Feautures
With its lightweight design, ability to fold flat, and the inclusion of smooth-rolling locking wheels, the Oncourt Offcourt Pickleball Rebounder Net is the most portable option in our selection. This feature makes it a top choice for pickleball enthusiasts who like to practice in various locations.
The rebounder features a sturdy metal frame that provides reliability during intense practice sessions. Alongside this, it boasts high-quality netting material, returning balls with a predictable, game-like bounce as on the pickleball court.
Another major feature of the Oncourt Offcourt Rebounder is its adjustable net angle. This allows players to practice various shots, offering a more comprehensive training experience. Whether you need to work on your dinks, groundstrokes, or volleys, this rebounder has got you covered.
Enhancing its practicality are the built-in wheels for easy movement and its ability to fold flat. These features greatly enhance portability and storage convenience.
Pros
Sturdy metal frame for a reliable bounce.
High-quality netting for a game-like practice experience.
Adjustable net angle for varied practice scenarios.
Wheels for easy movement.
Ability to fold flat for convenient storage.
Super quiet during play
Cons
Limited tension adjustment, reducing variability in practice scenarios.
Potential concerns about the durability of the metal frame under harsh weather conditions.
| Features | Description |
| --- | --- |
| Material | Durable netting and sturby metal frame |
| Multi-Sport Use | Tennis, Pickleball and other racquet sports |
| Indoor/Outdoor Use | Yes |
| Assembly | Some complexity, may require extra setup time |
| Durability | High, though weather exposure may affect frame |
| Weight | 20 pounds |
| Wheels | No wheels |
Tourna Rally Pro Adjustable Tilt Pickleball Rebound Net Feautures
The Tourna Rally Pro Adjustable Tilt Pickleball Rebound Net offers solid functionality at a highly competitive price point. With its adjustable tilt and easy portability, this model provides an excellent cost-to-value ratio.
Adjustable tilt allows you to vary the angle of the net, enabling the practice of different shots and significantly broadening your training scope. Another noteworthy feature is lightweight. It is a significant advantage for users who frequently need to relocate their training equipment.
One of the best things about the Tourna Rally Pro is its competitive pricing. It delivers an excellent blend of features and quality without breaking the bank, which is an advantage rarely found among its competitors.
Some users have reported that the unit may require additional anchoring in windy conditions to prevent it from moving or tipping over.
Pros
Durable frame ensuring reliable use.
Lightweight construction
Resilient net providing a game-like bounce.
Adjustable tilt offers versatile practice options.
Fold-flat design for convenient storage.
Competitive pricing.
Cons
Assembly may be complex, potentially leading to longer setup times.
Frame durability may be compromised under prolonged exposure to harsh weather conditions.
| Features | Description |
| --- | --- |
| Material | Sturby steel frame + Premium polyester net + Panel |
| Multi-Sport Use | No, designed specifically for pickleball |
| Indoor/Outdoor Use | Yes |
| Assembly | Easy assembly with clear instructions |
| Durability | High |
| Weight | Weight varies across models |
| Wheels | No wheels |
RTS Pickleball Rebounders Feautures
The RTS Pickleball Rebounders are recognized for their resistance and durability. The sturdy construction ensures this model will hold up under intense practice sessions and diverse weather conditions.
The key to their excellence lies in their hybrid construction. Each RTS pickleball rebounder combines a sturdy steel frame, a rebounding panel, and a premium polyester net, creating a robust and resilient training tool. This impressive blend guarantees an enhanced, consistent bounce that closely mimics real game conditions, an essential aspect of skill refinement.
The rebounder panels offer a responsive surface that provides a different bounce compared to the net, giving you the opportunity to vary your training and develop a more versatile skill set.
The RTS lineup offers variety too. The RTS Dink Pickleball Rebounder focuses on refining control and touch, while the RTS Dink Plus Pickleball Rebounder provides a larger training area for improved shot accuracy. And the RTS All-Court Rebounder, with its generous size, allows a wide array of shot types for an all-rounded practice.
However, for those seeking an even larger playing field, the RTS lineup includes pickleball rebounder Club models. They are approximately 33% larger than the All-Court model, offering expansive dimensions for an intensified training session.
Pros
Innovative hybrid construction
Durability
Training versatility
Multiple models
Realistic ball responses
Cons
The sturdy design could potentially affect portability.
Limited rebound area
| Features | Description |
| --- | --- |
| Material | Durable netting and sturby metal frame |
| Multi-Sport Use | Suitable for Tennis and Pickleball practice |
| Indoor/Outdoor Use | Yes, but manufactor highly recommend storing the entire system indoors including: the net, and all poles after each use. |
| Assembly | Assembly with clear instructions |
| Durability | High |
| Weight | 11 pounds |
| Wheels | No wheels |
Infinity Play System Pickleball Rebounder Feautures
The Infinity Play System Pickleball Rebounder stands out for its multi-functionality. Not only is it an excellent rebounder, but it also includes a Multi-Twist Mini Ball Machine.
This setup elevates pickleball practice to new heights. The Rebounder Net, made from sturdy materials, offers consistent bounce-back, helping players hone their shot precision and reflexes. But the real game-changer here is the Multi-Twist Mini Ball Machine, which propels balls at various speeds and spins. This feature mimics real-life game scenarios, challenging players to adapt and respond effectively.
This unique combination sets the Infinity Play System apart from its competitors. No other system integrates a high-quality rebounder with a dynamic ball machine quite like this.
Pros
Durability
Dynamic variety
No more chasing after balls
Multi-twist mini ball machine included
Providing various speeds and spins, replicating different game scenarios.
Cons
Setup could be complex for beginners.
The premium price point may not suit all budgets.
Which Pickleball Rebounder Suits You Best?
The Infinity Play System Rebounder with Multi-Twist Mini Ball Machine is the go-to choice for serious players seeking an all-in-one training tool. Its ball capacity and adjustable settings cater to diverse training requirements.
The Oncourt Offcourt Pickleball Rebounder is an excellent choice for those prioritizing simplicity and portability. It is user-friendly, folds flat, and comes equipped with wheels for effortless storage and transportation.
Budget-conscious or casual players might find the Tourna Rally Pro Adjustable Tilt Rebound Net to their liking. Despite its modest price, it provides substantial functionality for fundamental training.
For those focusing on enhancing their dink shots, the RTS Pickleball Rebounders come highly recommended. Their hybrid net-panel construction is engineered to boost shot accuracy and consistency.
When it comes to both individual and group training scenarios, the Ksports Pickleball Rebounder excels with its large rebound surface, making it a versatile choice for different practice setups.
The Perfect Pitch Rebounder, with its 'Dead-Bounce' technology, stands out by mimicking real-game scenarios for an authentic practice experience, making it an appealing choice for players aiming to step up their game.
Ultimately, the best product hinges on individual needs, budgets, and areas of training focus. Each option offers unique attributes designed to effectively advance pickleball skills.
DIY Pickleball Rebounder
For those interested in a hands-on approach, a DIY Pickleball Rebounder might be a perfect choice. All you need are some PVC pipes, netting, and a bit of patience. Start by deciding on the dimensions of your rebounder. Then, following the manufacturer's instructions, cut and assemble the PVC piping to create a sturdy frame.
Attach the net or rebounder panels and ensure the entire setup is safe and stable. Remember, it should mimic the bounce of a regular pickleball game as closely as possible. Watch some videos or read guides online to make sure you're doing it right.
Crucial Factors in Choosing the Best Pickleball Rebounders
Pickleball rebounders can look quite similar to the untrained eye, but each model has its unique intricacies and advantages. It's not just about the rebound – it's also about durability, ease of use, portability, and adaptability to various skill levels.
Choosing the Right Material
A rebounder's material can significantly influence its durability and performance. A durable, elastic material is preferable, providing a realistic, consistent bounce back. Steel frames also enhance the lifespan of the rebounder and ensure stability during intensive training sessions. Conversely, pickleball rebounders with cheaper nylon or polyester netting might not withstand the test of time and fail to deliver the required accurate return.
Understanding Size and Space Requirements
In the context of pickleball rebounders, bigger doesn't necessarily equate to better. The best size is determined by specific needs and available space. A compact 7′ x 7′ rebounder, for example, could be the perfect addition to a small backyard, providing a sufficient surface area for a variety of shots. It's essential to consider not just the size of the rebounder, but also the surrounding space required for movement and executing shots.
Why Versatility in a Pickleball Rebounder Is Key
Versatility is critical when choosing a pickleball rebounder. A high-quality rebounder should allow different types of shots, from dinks to drives, with different angles of return. The inclusion of adjustable tilt features for practicing high lobs and low drives can significantly enhance training sessions.
The Importance of Easy Assembly
Ease of assembly is a significant factor when selecting a pickleball rebounder. Some models might appear impressive but prove frustratingly complex to assemble. The ideal choices are those that require no tools, have clear instructions, and can be set up within 15 minutes.
Weathering the Elements
Outdoor sports equipment must be durable enough to withstand different weather conditions. Therefore, superior pickleball rebounders should endure sun, wind, and rain, among other conditions. Rust-proof frames and UV-resistant nets are recommended for enhanced durability.
The Benefits of Portability and Storage
Portability and storage should not be underestimated. Designs that are foldable or have wheels allow for convenient movement and storage when not in use. Some models come with carry bags, facilitating training sessions while on the move.
The Perks of Multi-Functionality
Although not a necessity, multi-functionality can be a beneficial feature. Certain pickleball rebounders can be adapted for other racquet sports like tennis or squash. Some models also offer dual sides—one providing a predictable rebound, the other a random one—adding an extra challenge to practice sessions. Or another example is the Infinity Play System Rebounder Net which is paired with a Multi-Twist Mini Ball Machine, transforming your training into a comprehensive, all-rounded experience.
Assessing Cost-Effectiveness
The price tag of a rebounder is usually reflective of its features, quality, and durability. But remember, expensive doesn't always mean better. Instead, the focus should be on finding a reliable and durable product that aligns with individual needs and budget constraints.
Conclusion
In this thorough examination of the top pickleball rebounders, the Infinity Play System Pickleball Rebounder with its Multi-Twist Mini Ball Machine emerges as the clear victor. It excels in terms of functionality, adjustability, and versatility, aligning perfectly with the key decision-making factors outlined earlier.
The runner-ups, Ksports Pickleball Rebounder and Perfect Pitch Rebounder, also offer commendable features, particularly in areas of durability and unique design. However, Infinity's added capacity and multi-functionality provide an unmatched comprehensive training solution.
Whether you're honing your dink shots or practicing high-velocity returns, choosing the right rebounder makes all the difference, and the Infinity Play System Pickleball Rebounder truly shines in this respect.
When choosing a pickleball rebounder, remember to balance your needs and priorities. Whether it's a high-capacity machine, a portable design, or a hybrid pickleball net-panel construction, there's a perfect fit for everyone who love pickleball. Happy playing!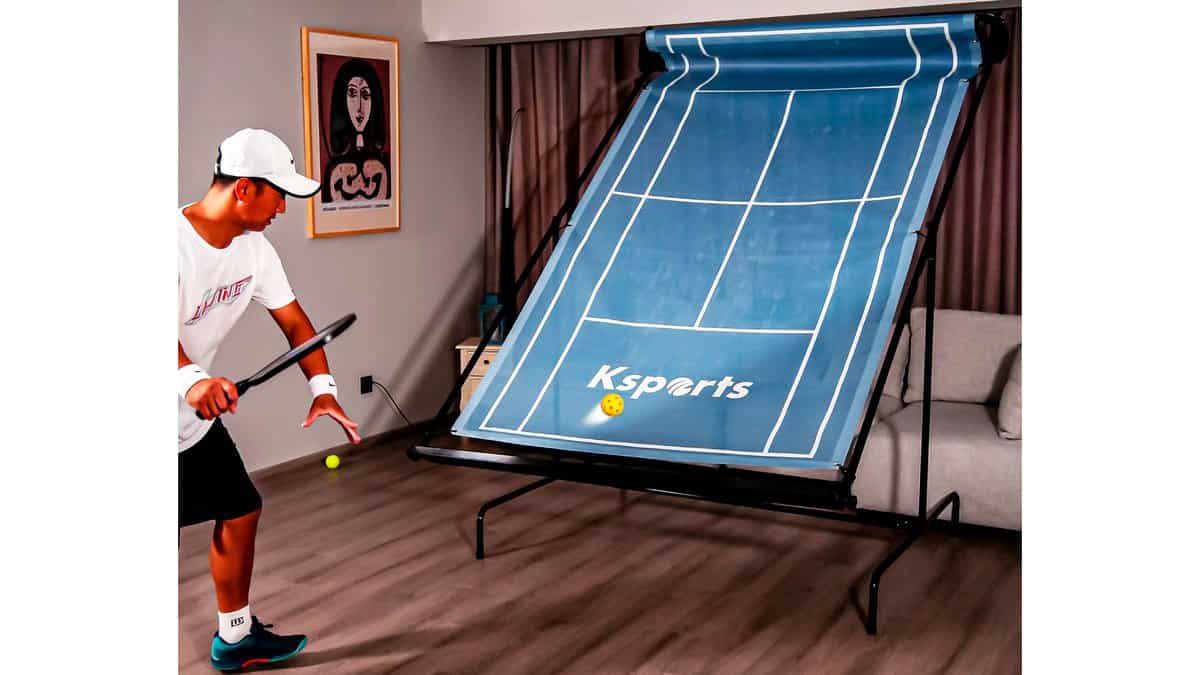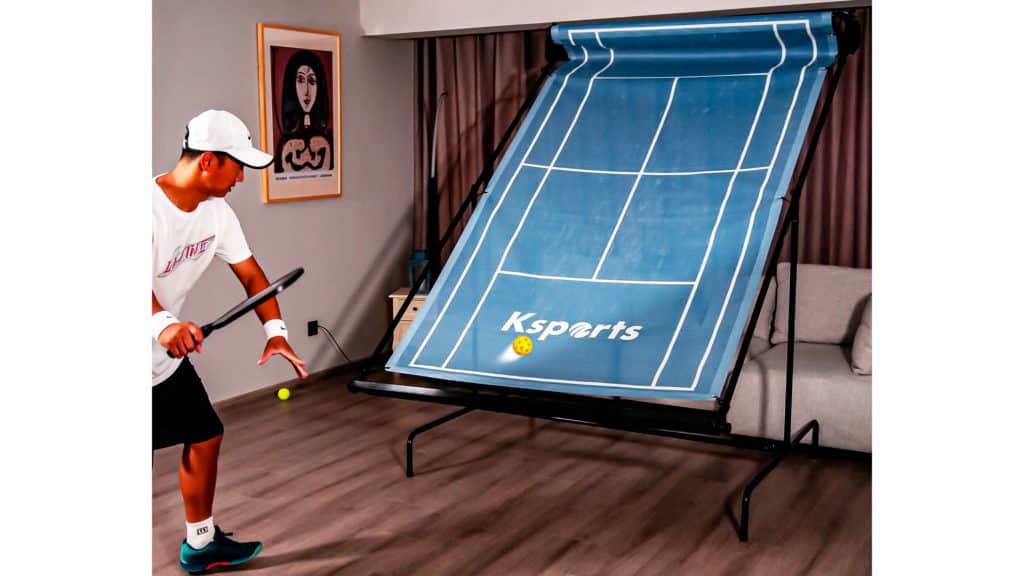 FAQ
What is a pickleball rebounder, and why is it useful?
A pickleball rebounder is a pickleball training equipment that allows you to practice your shots and improve your accuracy without the need for a partner. It consists of a net or surface that bounces the ball back to you when you hit it.
What is the optimal size for a pickleball rebounder?
The optimal size of a pickleball rebounder depends on your personal needs and available space. Compact 7′ x 7′ models might be a perfect fit for smaller spaces, providing a substantial surface area for various shots.
Can a pickleball rebounder be used for other racquet sports?
Yes, some models are designed not only for those, who love pickleball. They are multi-functional, can be useful for paddle ball players, and allow use for other racquet sports such as tennis and squash.
Do I need any special tools to assemble a pickleball rebounder?
Some models require no tools for assembly, while others might. The best models usually have clear instructions and can be set up quickly.
How much should I expect to spend on a good pickleball rebounder?
The cost of a pickleball rebounder can vary widely based on its features, size, and brand. A quality rebounder could range anywhere from $100 to over $500. Always consider your budget and the value for money a rebounder offers.
What is a wall drill target decal?
A wall drill target decal is a sticker or a set of stickers that you can put on a wall or a pickleball rebounder. They act as targets for your shots, helping to improve accuracy and precision.
Which is the most durable rebounder?
Durability often depends on the quality of materials used. Pickleball rebounders with robust frames and high-quality, UV-protected nets typically offer the most longevity.
What is a portable pickleball rebounder?
A portable pickleball rebounder is lightweight and often foldable or comes with wheels, making it easy to move around or store. Some also come with carry bags for added convenience.
How can I make a DIY Pickleball Rebounder?
Creating a DIY Pickleball Rebounder involves constructing a sturdy frame (often from PVC pipes or wood). Then attaching a pickleball net or elastic material for the ball to bounce off. And ensuring the entire setup is safe and stable.
Should I choose a pickleball rebounder wall or pickleball rebounder nets?
Both have their benefits. A rebounder wall generally offers a more predictable return. While a net can provide varied returns mimicking real gameplay as on the pickleball court. A rebounder wall can be more durable but also less portable than a net. Consider your needs and training goals when making a choice.
How does a rebounder work in pickleball?
The mechanics of a rebounder in pickleball are fairly simple. You launch the ball towards the rebounder net, and due to the tension in the net, the ball bounces back towards you. This allows a player to practice returns and shots in a controlled environment.
Why do I need a pickleball rebounder?
A pickleball rebounder is an essential part of any serious pickleball training program. Using a pickleball rebounder can greatly improve your accuracy, timing, and hand-eye coordination. It gives you the opportunity to practice hitting the ball at different speeds and trajectories. It is particularly useful for those who love pickleball and want to improve their game but don't always have a partner to practice with.