As an avid pickleball player, I'm always on the lookout for new paddles that can improve my game. The Legacy Pro caught my eye recently, so I took it for a test drive to see if it lives up to the hype. After playing with the Legacy Pro for a few weeks, I'm ready to share my thoughts in this in-depth review.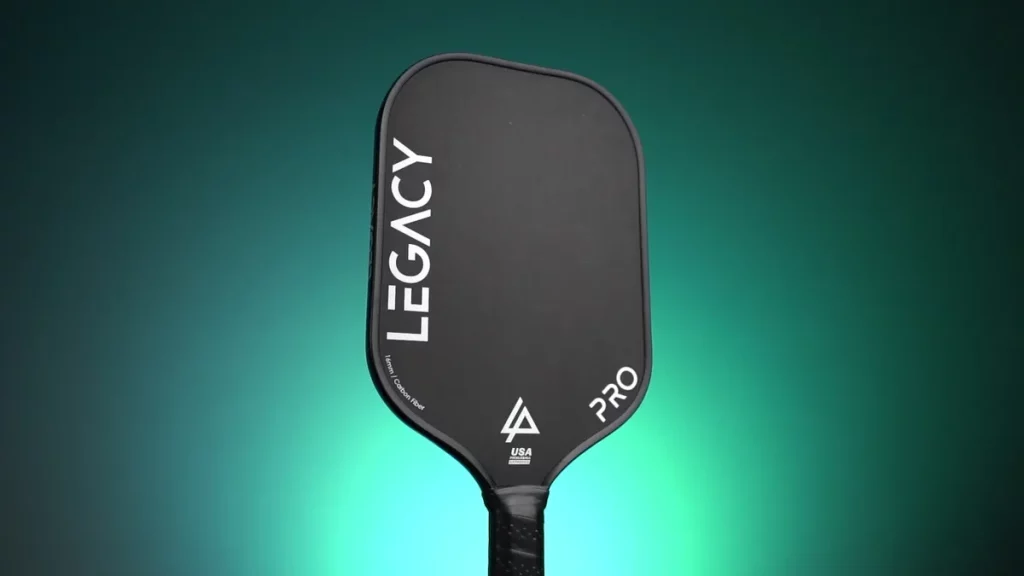 What is the Legacy Pro Pickleball Paddle?
The Legacy Pro stands out for its balance of spin, power, and versatility. It allows you to easily reset the ball while generating power on drives thanks to its Toray T700 carbon fiber face and special core layering.
| Features | Details |
| --- | --- |
| Face | Toray T700 Raw Carbon Fiber |
| Core Thickness | 16mm, Compressed 8mm cells to combat vibrations |
| Weight | 8.0 – 8.4 ounces |
| Length | 16.5 inches |
| Width | 7.5 inches |
| Handle Length | 5.3 inches |
| Grip Size | 4.125 inches |
| USAPA Approved | Yes |
Legacy Pro Pickleball Paddle Features
Some other notable features:
Modified polymer core to reduce vibration and potential arm injuries
Well-balanced right out of the package
Reinforced edges for added stability and sweet spot coverage
Ergonomic handle shape that fits most hand sizes
With its pro-level specs and innovations, Legacy designed the Legacy Pro to take intermediate and advanced play to the next level.
Why is the Legacy Pro Paddle Worth Reviewing?
With its carbon fiber face, modified polymer core, and thoughtful design tweaks, the Legacy Pro looks primed to compete with the top paddles. I was eager to see if the Legacy Pro could compete against other top composite paddles in its class.
The Legacy Pro deserves a close look for several reasons:
With its unique mix of features focused on improving performance, the Legacy Pro stood out as a worthy choice to take for a test drive and see how it stacks up. For intermediate and advanced players seeking an all-around performing composite at a reasonable cost, the Legacy Pro looks like a contender. Putting it through on-court testing would reveal if it lives up to its potential.
Now let's take a deeper look at how the Legacy Pro actually performs on the court…
Design and Construction of the Legacy Pro Pickleball Paddle
The Legacy Pro incorporates several design elements and materials to optimize its performance:
Materials Used
The Toray T700 raw carbon fiber thermoformed face provides excellent touch and ball control. It has a tight weave pattern that gives a unique grippy feel distinct from other paddles.
The polymer honeycomb core is designed to dampen vibrations and improve stability.
Injected foam between the core and edge guard boosts the paddle's durability.
The cushioned polymer edge guard protects the rim from wear and tear.
The ergo comfort grip handles sweat and allows for maneuverability.
The tight weaving pattern of carbon fiber on the paddle's surface is distinct from other paddles, providing a unique feel and grip.
Construction
The 5.3 inch handle fits most hand sizes comfortably, but may be slightly short for players with larger hands.
The Legacy Pro has a wider paddle face for more sweet spot coverage.
It is thermoformed for reinforced edges and stability.
The core and face run edge-to-edge for optimal energy transfer.
The textured grip provides control and absorption.
At 8.0-8.4 ounces, it has a maneuverable midweight design.
Performance of the Legacy Pro Pickleball Paddle
After spending several weeks playing with the Legacy Pro, I'm able to provide some insights on how it performs in key areas:
Spin and Power
The carbon fiber face and tight weave allow you to impart spin on shots with the right technique.
It provides good pop on drives and put aways when you need extra power.
The paddle feels very responsive when cleanly striking the ball.
Drives have a satisfying, crisp feel upon contact.
The Legacy Pro is praised for its power and spin capabilities.
It achieves a high RPM rate of 1903, making it one of the top spin-producing paddles.
Sweet Spot and Dwell Time
The wider face shape enlarges the sweet spot nicely. I was able to consistently control off-center hits.
The ball seems to stick to the face slightly longer thanks to the dampened core increasing dwell time. This aids control.
Control and Precision
The Legacy Pro offers exceptional touch and finesse around the net for dinks and drops.
The lightweight design makes it easy to manipulate for quick reactions and directional control.
The grip and face texture allow you to hold shots with control.
Comparison to Other Popular Paddles
It plays very similar to the Selkirk Amped Epic but with a bit more finesse.
The larger sweet spot provides more forgiveness than a Paddletek Tempest Wave Pro.
More power than a Gamma Poly Core Paddle but not as much pop as a ProKennex Ovation.
Overall, the Legacy Pro delivers a compelling blend of control, stability, and power expected from a high-end composite paddle while adding some unique advantages like extended sweet spot coverage.
Durability of the Legacy Pro Pickleball Paddle
The Legacy Pro seems built to last thanks to its construction and design elements:
Unibody Design
The paddle is made as one continuous piece from edge to edge, eliminating weak points.
This creates a solid unified feel and energy transfer when hitting shots.
Resistance to Wear and Tear
The fiberglass resin carbon fiber face is highly durable and scuff-resistant.
The edge guard absorbs impacts along the rim to prevent chipping.
The textured grip stands up well to friction and use over time.
Longevity
The Legacy Pro should maintain its playability and performance for many seasons of use.
Its quality materials and construction are made to withstand frequent play.
The technologies used aim to prevent deterioration from vibration and stress.
With proper care, it can remain in good playing condition for several years.
From my testing so far, the Legacy Pro seems engineered for the long haul. Its rugged construction should provide players with a durable paddle that maintains its quality and playability over repeated use. For players seeking a paddle to last them through many competitive seasons, the Legacy Pro looks to fit the bill.
User Experience with the Legacy Pro Pickleball Paddle
Let's look at some user reviews and comparisons to other Legacy paddles:
Reviews from Customers and
Many praise the balance of power, control, and feel. It suits various playing styles.
Users say the sweet spot feels very forgiving during play.
Several mentioned improved spin on shots like serves after switching to the Legacy Pro.
The reviewer emphasizes the importance of the neck taper, comparing it to other paddles.
Reviews from Sponsored Players
Sponsored pro Simone Jardim said it provides "crisp pops and touch."
Pro player Lucy Kovalova said the Legacy Pro gave her "excellent control and stability."
Pickleball coach Mojesh Arora called it "my new go-to paddle for versatility."
Popular pickleball blogger Matt @ The Pickleball Paddle said it's "quickly become a top seller for its blend of power, spin, and forgiveness."
Pros and Cons of the Legacy Pro
Pros
Excellent power and control
Lightweight but still stable
Extended sweet spot coverage
Great touch and responsiveness
Cons
Premium price point
Not as much pop as some graphite paddles
Grip comfort may vary by hand size
Comparison to Other Legacy Paddles
More power and a larger sweet spot than the Legacy Original paddle.
The Legacy Explorer has a rounded shape optimized for control, while the Legacy Pro has a wider face great for power.
Provides a similar blend of control and power as the Legacy Legend but with some added stability.
Conclusion – Final Thoughts on the Legacy Pro Paddle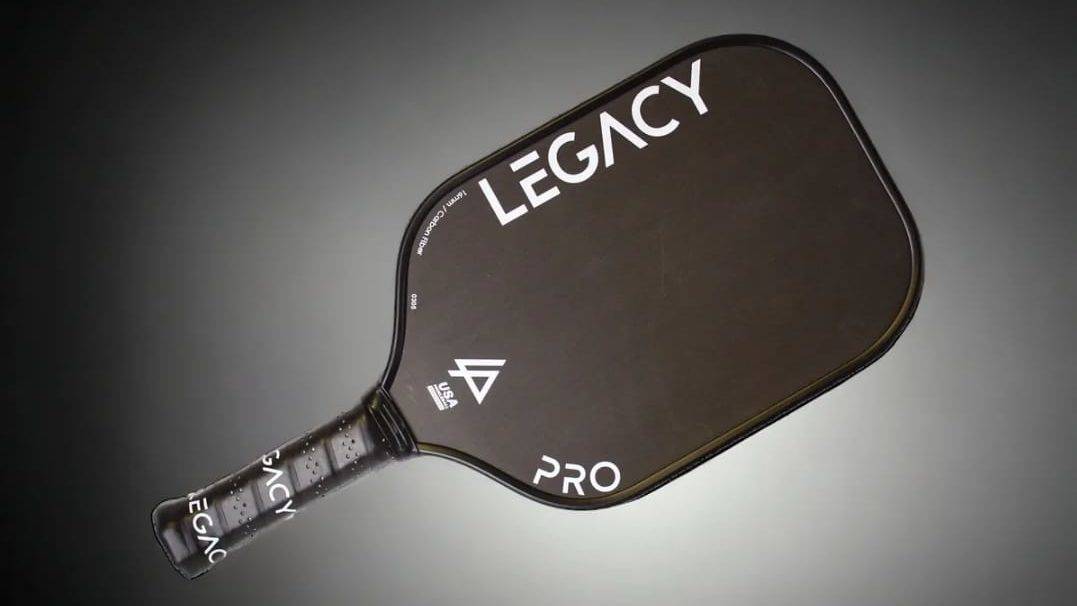 After extensive playtesting, I'm thoroughly impressed with what the Legacy Pro brings to the table. The blend of power, control, stability, and feel it provides makes it a paddle that can excel in many playing situations. It quickly became a favorite for matches where I needed to dial in my shots.
The Legacy Pro lives up to its promises as a high-end composite paddle ready for intermediate and advanced play. While not cheap, it delivers pro-level performance and innovations like the extended sweet spot at a more affordable price point than some competitors.
Overall, the Legacy Pro is an impressive addition to the Legacy paddle lineup. It stands out for its ability to deliver power while maintaining exceptional touch and control around the net. I would recommend it to technical players looking for more stability without sacrificing quick maneuverability.
Who Should Consider Buying the Legacy Pro
The Legacy Pro is a great paddle for intermediate to advanced players seeking:
It best suits technical players who rely on both finesse shots and driving the ball with pace. The blend of features optimize it for versatility.
Where to Buy the Legacy Pro Pickleball Paddle
The Legacy Pro is available from major pickleball retailers like:
Bundles with cases and accessories are also available.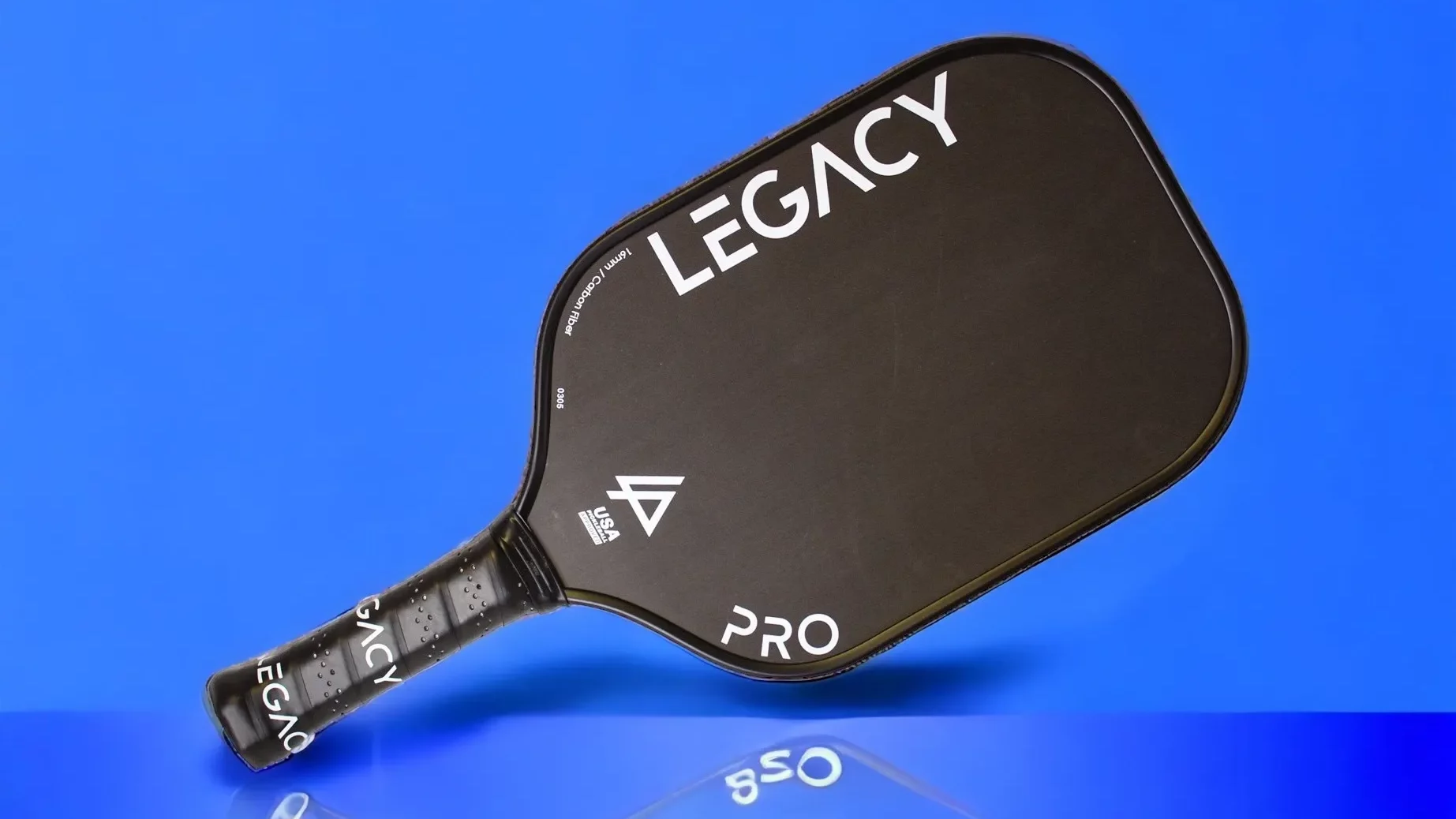 FAQ
What type of player is the Legacy Pro best suited for?
The Legacy Pro is optimized for intermediate to advanced players looking for a responsive and versatile paddle. It excels for technical players who rely on control and finesse but also hit with power.
What grip sizes does the Legacy Pro come in?
It comes standard with a 4 1/4″ circumference grip (16mm diameter). Legacy offers wrap-around grip tape in various sizes to modify the grip circumference.
How does the Legacy Pro compare to other Legacy paddles?
It has a larger sweet spot and more power than the Original. More finesse-focused than the Explorer. Similar blend of control and power as the Legend but with more stability.
What weights and colors does the Legacy Pro come in?
It is available in weights ranging from 7.8 oz to 8.4 oz. Current color options include: black, blue, red, pink, and purple. Custom graphics can be added for an additional cost.
Does the Legacy Pro come pre-wrapped or bare?
The Legacy Pro comes pre-wrapped with Legacy's Ergo grip tape. An upgrade to a cushioned grip is available. The bare paddle is not available for consumer purchase.
What type of game improvements can I expect from switching to the Legacy Pro?
Players typically experience more power on drives, better control around the net, increased spin potential, extended reach on off-center hits, and reduced arm vibration.
What is the warranty period for the Legacy Pro paddle?
Legacy offers a standard 1-year manufacturer's warranty against defects. Contact them for returns/exchanges on damaged paddles.
Where are Legacy Pro paddles manufactured?
Legacy paddles are designed and assembled at their manufacturing facility in Utah, USA using imported materials and components.
Where can I find a Legacy Pro S pickleball paddle?
The Legacy Pro S is a previous model that has been discontinued. The current version is called the Legacy Pro. It has some updates from the Legacy Pro S.
What are people saying about the Legacy Pro pickleball paddle on Reddit?
The pickleball subreddit has glowing reviews of the Legacy Pro. Users praise the blend of power, control and stability. Some mention it improved their spin and pop on shots.
Where can I find the Legacy Pro pickleball paddle coupon code?
To find the Legacy Pro pickleball paddle coupon code, you can check the following sources:
1) Wethrift.com: The best Legacy Pickleball coupon code available is PICKLEBALLWILL. This code gives customers 10% off at Legacy Pickleball.
2) HotDeals.com: Get 25% OFF with 18 active Legacy Pickleball Promo Codes & Coupons at HotDeals.
3) Reddit: Check the discount/coupon codes thread on r/Pickleball. Someone might have shared a coupon code for the Legacy Pro paddle.
4) In the description under YouTube video reviews.
Note that these sources might not always have an active coupon code available, so it's worth checking them periodically or signing up for their newsletters to stay updated on any promotions.
What is Legacy Pro pickleball paddle price?
The price is $135 – $150 for the paddle alone. Bundles with accessories run $149.99 – $199.99
Where can I buy a used Legacy Pro paddle?
Check sites like Craigslist, eBay, Facebook Marketplace, OfferUp, or Pickleball Paddle Trader on Facebook. Used Legacy Pro paddles in good condition tend to resell for $60-$100.
Does Legacy sell the Legacy Pro pickleball paddle in Canada?
Yes, Legacy has Canadian distribution through pickleball retailers like Pickleball Depot, Pickleball Central, and others. Shipping is available.
What do reviews say about the Legacy Pro paddle?
In reviews, the Legacy Pro is consistently rated as a top composite paddle. It earns praise for its power, control, large sweet spot, and durability.
What is a carbon fiber paddle?
A carbon fiber paddle is a specific design of a paddle which is predominantly used in games such as pickleball. The paddle consists of a layered structure, with a core made of different material and a face combined with carbon fiber.
The advantage of this is that it gives the player more control, and the ability to apply pressure when hitting the ball. The carbon fiber paddle is often referred to as the power paddle because of its ability to inject power into the shots.
What makes the carbon fiber paddle stand out amongst others?
The carbon fiber paddle is truly unmatched in its balance, featuring an ideal balance between spin and power. Its unique design and materials combine to make this paddle a true versatile paddle.
The raw carbon fiber paddle, paired with the special layering approach used in its construction, gives players the ability to apply power to those shots that require a little extra something, thereby making the paddle stand out amongst its competitors.
What is the meaning of 'versatile paddle that can reset'?
A versatile paddle that can reset describes a type of paddle that allows the user to reset the ball in games like pickleball. This terminology refers to the ability to control the ball in a way that brings it back to a neutral state. With a carbon fiber paddle, you can easily reset the ball and apply power to control the game effectively.
What is the role of Joola in the sport of Pickleball?
Joola is a well-known sport brand. Their cutting-edge equipment, which many include carbon fiber paddles, is trusted by professionals and amateurs alike. Their paddles are known for offering a balance between spin and power, thanks to the unique blend of materials used.
What is the legacy pickleball?
Legacy pickleball refers to the brand that has engineered the legacy pro, a high-quality pickleball paddle. It's a power paddle featuring a raw carbon fiber face mixed with other special materials. This special layering combines to make the paddle uniquely versatile, thereby positioning it as a heavy favorite in the world of pickleball.