If you're looking to improve your pickleball game, taking lessons is an excellent way to start. But with so many options out there, finding the right "pickleball lessons near me" can be a challenge. We'll share tips and tricks for identifying top-rated instructors and facilities. So whether you're looking for group classes, private sessions, or online training, we've got you covered.
How to Find the Best Pickleball Lessons?
To find the best pickleball lessons, consider your skill level and objectives. Look for certified coaches with positive reviews. Local sports clubs, community centers, and online platforms offer both group and private lessons. Online resources, video tutorials, and apps can supplement in-person instruction for comprehensive learning.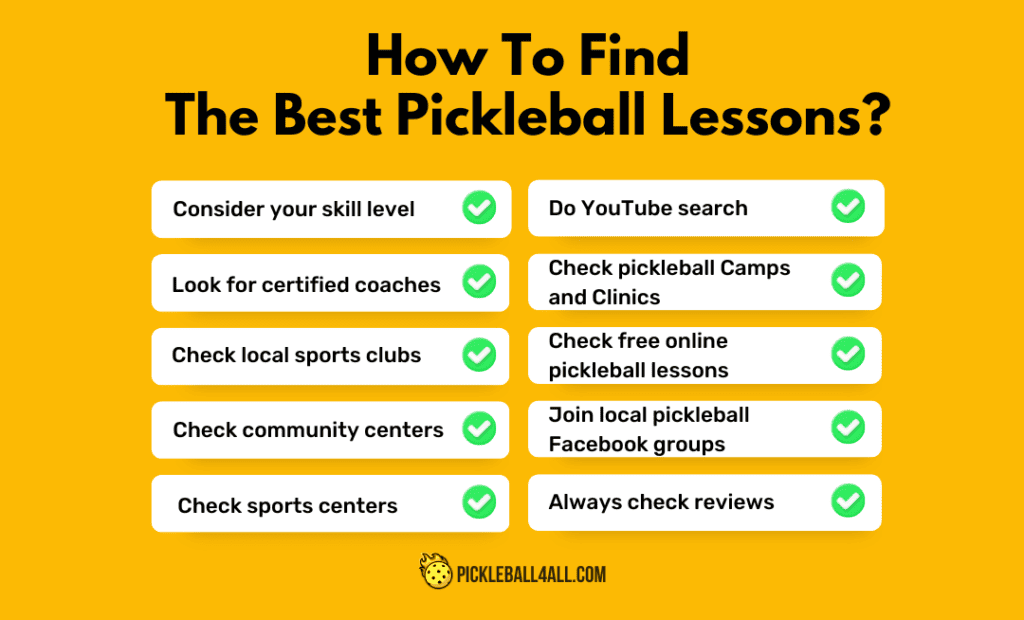 Getting Pickleball Lessons vs. Teaching Pickleball Yourself
Pickleball is a sport that is easy to pick up, but difficult to master. If you're new to pickleball, you might be wondering whether it's possible to teach yourself or if you should invest in coaching. Let's take a look at the pros and cons of each approach.
Pros and Cons of Teaching Pickleball Yourself
If you're new to pickleball, it may be tempting to try to learn on your own by watching videos or reading articles online. While this can give you a basic understanding of the game, it's not a substitute for hands-on instruction from a qualified instructor.
When you learn on your own, you may develop bad habits without even realizing it. For example, you may not hold the paddle correctly or use the proper footwork. These bad habits can become ingrained and difficult to correct later on.
Pros
Can be less expensive
Can learn at your own pace and on your schedule
Cons
May develop bad habits or incorrect techniques
Limited feedback and no structured instruction
May progress more slowly and become frustrated
May not have access to quality equipment or facilities
Pros and Cons of Getting Pickleball Lessons
Taking a pickleball lesson from a qualified instructor can help you learn the correct techniques from the start. You'll receive feedback on your game, which can help you avoid developing bad habits. You'll also learn valuable tips and strategies that can improve your game.
Pros
Can receive personalized feedback and instruction
Can progress more quickly and with better technique
Learning from experienced players
Learning new strategies that can give you an edge over your opponents
Provides access to quality equipment and facilities
Can meet other players and build a community
Cons
Can be more expensive than teaching yourself
May require travel to a facility or instructor
May not fit into your schedule as easily as self-teaching
Ultimately, the decision of whether to teach yourself or get classes comes down to your personal preferences, budget, and goals. We recommend trying both options to see which works best for you. You may find that a combination of both self-teaching and professional coaching is the perfect balance for your learning style.
Top 6 Ways to Find Pickleball Lessons
From online searches to local sports clubs, there are plenty of options to choose from. Here are some tips for finding the best course to improve your game.
Online Searching for Pickleball Lessons
Google (Bing, Yahoo, etc.) is one of the easiest ways to find pickleball lessons.
Here are some keywords that you can use for searching:
Be sure to include the location you're searching from, such as your city or zip code, to get the most accurate results. Check the details, such as location, schedule, pricing, reviews, and instructor information. Then contact the provider to schedule your course.
Youtube Searching for Pickleball Lessons
Another online resource for finding pickleball lessons is YouTube. Many professional pickleball players offer tutorial videos on their channels. It can be a great way to get started with the basics.
When searching for pickleball lessons on YouTube, try using the following keywords:
Here are top pickleball YouTube channels:
Here are top pickleball influencers:
Join Local Pickleball Facebook Groups
You can also join local pickleball Facebook groups to ask for recommendations.
Search for "pickleball" in the Facebook search bar. Look for groups in your area, such as "Dallas Pickleball Players" or "San Diego Pickleball Association." Once you're in the group(s), post a question asking for recommendations for pickleball lessons or clinics near you.
Look for Lessons at Local Clubs and Organizations
One of the best places to find pickleball lessons near you is at your local pickleball club or organization. Many of these groups offer regular lessons, clinics, and tournaments to help players of all skill levels improve their game.
Follow steps:
Look for clubs that offer lessons specifically for beginners or players at your level. You can also check their websites or social media pages to see if they have any upcoming clinics or events.
Check Sports Centers and Gyms for Pickleball Lessons
Many local sports centers and gyms offer pickleball as part of their programming. Check that the sports center or gym has certified instructors who are experienced in teaching pickleball.
Find a Mentor: Learn from an Advanced Player
Here are some tips for finding an advanced player who could coach you:
Be sure to offer to compensate them for their time and expertise.
Different Types of Pickleball Lessons
There are several different types of pickleball lessons available, each with its benefits and drawbacks. Let's take a closer look at some of the most popular types of them.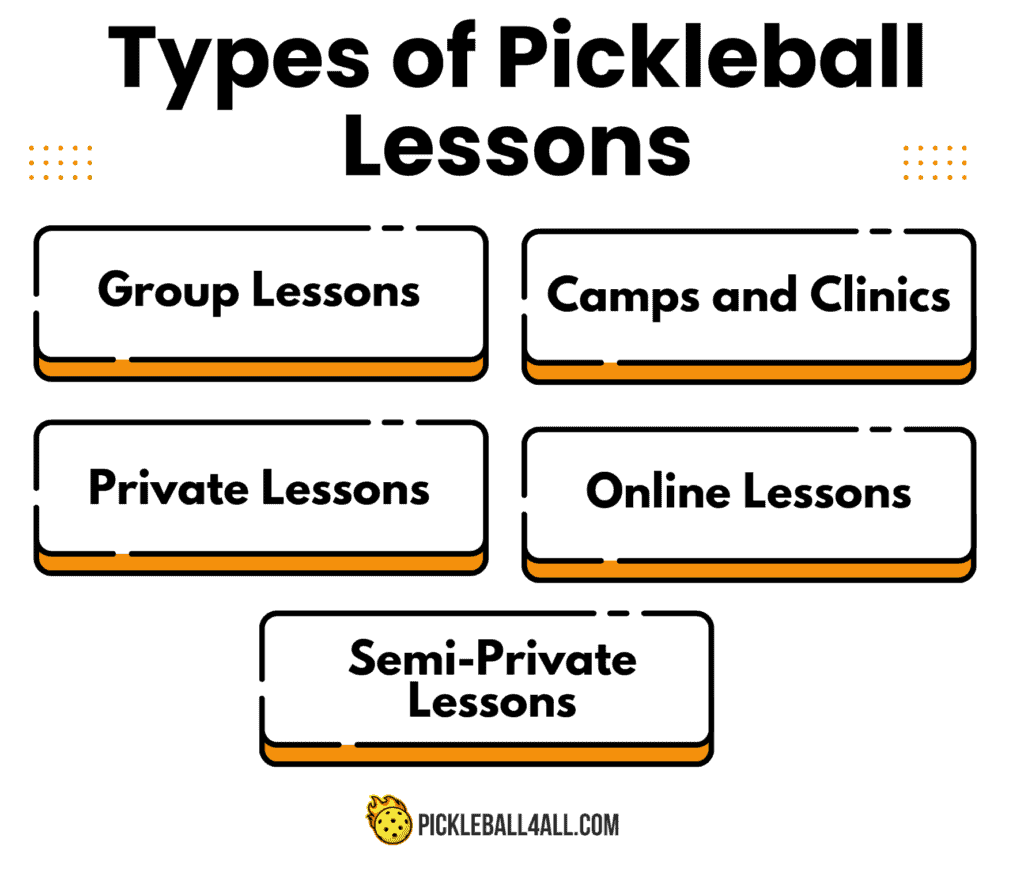 Pickleball Group Lessons
Group lessons are a popular option for those who are looking for a more social and interactive learning experience. In a group lesson, you'll learn alongside other pickleball players of a similar skill level. This can be a great way to meet new people, make friends, and have fun while learning with a team.
Pickleball Private Lessons
Private lessons can be a great option for those who prefer a more focused learning experience. Recommended for those who want personalized attention and instruction.
Pickleball Semi-Private Lessons
The such lessons can be a great option for those who want more personalized instruction than a group lesson but don't want to pay the full price of a private lesson. Two-on-one coaching with a certified instructor is recommended for couples or friends who want to learn together.
Pickleball Camps and Clinics
Pickleball clinics and camps are intensive training programs that typically last several days. These programs are designed for those who are serious about improving their skills and are willing to invest time and money into a more intensive learning experience.
Here are top pickleball camps and clinics for various skill levels:
Online Lessons
Online lessons offer the convenience of learning from the comfort of your own home. It can be a great option for those who live in areas without access to in-person lessons.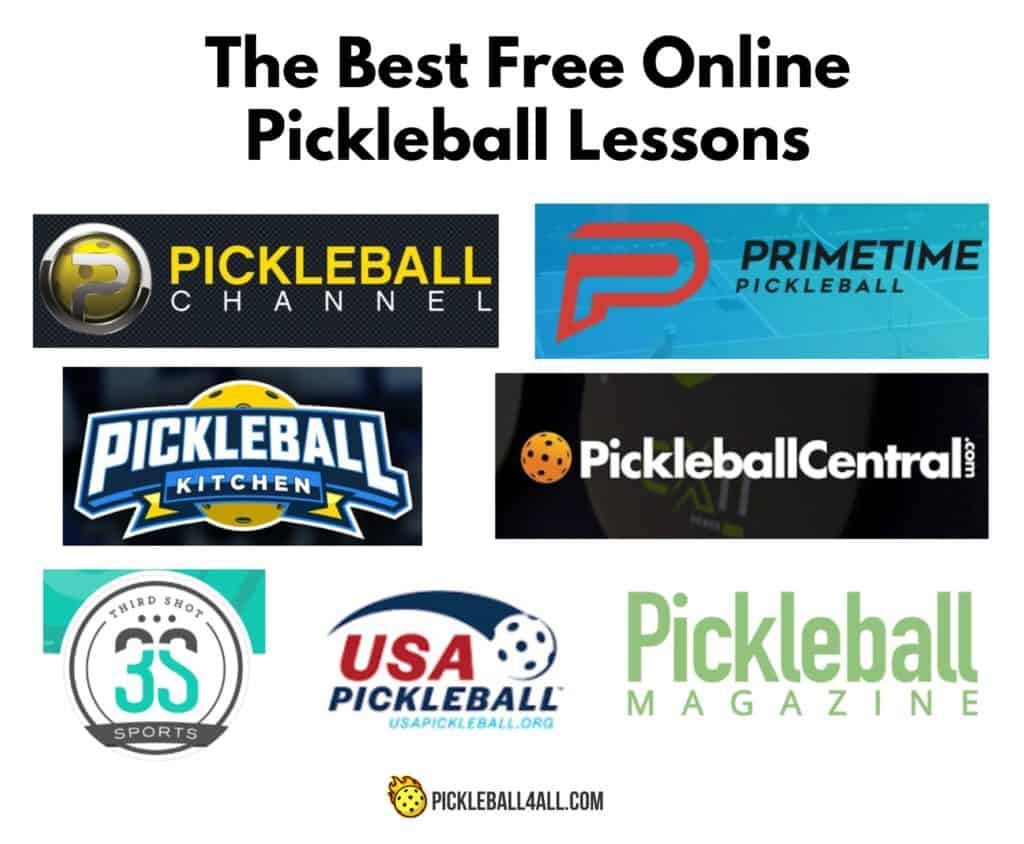 The best free online pickleball lessons: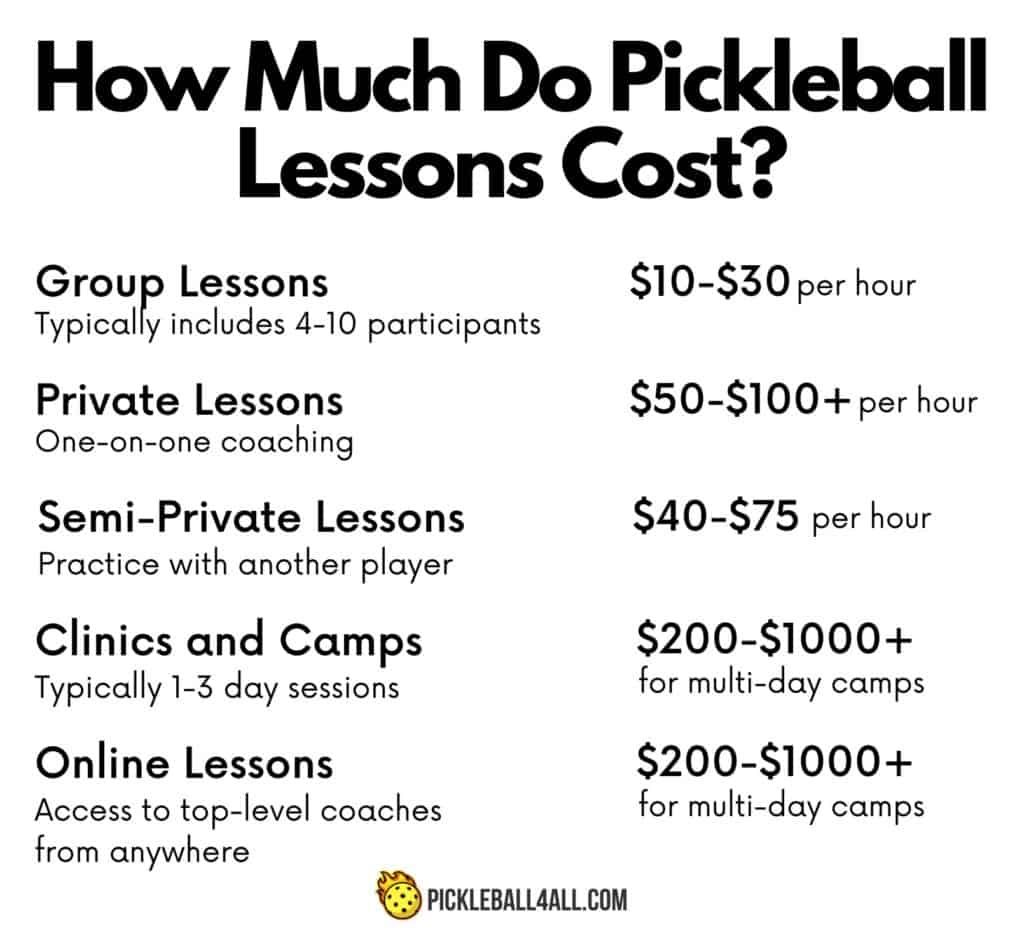 Tips for Choosing the Right Pickleball Lessons
Here are some tips to help you find the best pickleball classes.
Tip 1. Choosing the Right Pickleball Coach
Tip 2. Class size
Tip 3. Equipment and facilities
Tip 4. Lesson Format
Tip 5. Location
What to Expect from Pickleball Lessons
Here's what you can typically expect during your first lesson:
Warm-up exercises. Your instructor will likely start with a series of warm-up exercises to help you loosen up and get your muscles ready for play. These may include stretching, light jogging, and other low-impact activities.
Basic instruction. Your instructor may begin with basic instructions on the rules and proper technique for basic shots such as serves and returns.
Drills. You'll likely spend a significant portion of your first lesson practicing drills. These may include footwork drills, groundstroke drills, and volley drills.
Practice games. Finally, you'll get to practice. Your instructor may pair you with other students at a similar level to play practice games, or you may participate in group games.
To make the most of your first lesson, be sure to come prepared. Wear comfortable, athletic clothing and bring plenty of water and snacks to stay hydrated and energized throughout the lesson. You may also want to bring a towel or an extra shirt to stay dry during breaks.
Here are some tips on how to get the most out of your pickleball lessons:
Play regularly to improve your game.
Set goals for pickleball training setting to track your progress.
Get feedback or video analysis from the instructor.
Take notes during your class.
Use the Right paddle and supportive shoes.
Beginner Pickleball Lessons: Find the Best Options
If you are new to pickleball and looking for beginner lessons, there are a few key features to keep in mind:
Instructor qualifications. Check the qualifications and experience of the instructor. You want to make sure that your couch is knowledgeable and experienced in teaching pickleball to beginners.
Lesson structure. Look for lessons that are structured specifically for beginners. These should include basic skills, techniques, and strategies, as well as opportunities to practice and play with other beginners.
Equipment. Check if the lessons provide equipment, such as paddles and balls, or if you need to bring your own. Some lessons may offer rentals or the option to purchase equipment.
Cost. Consider the cost of the lessons and if they fit within your budget. Some lessons may offer packages or discounts for multiple sessions.
Comparison Of The Best Pickleball Schools
In conclusion, finding the best classes requires some research and consideration. By following the tips we provided, you can narrow down your options and choose the right coach. With the right instruction and practice, you can improve your technique, compete at higher levels, and enjoy the pickleball game. So don't hesitate and start your pickleball journey today!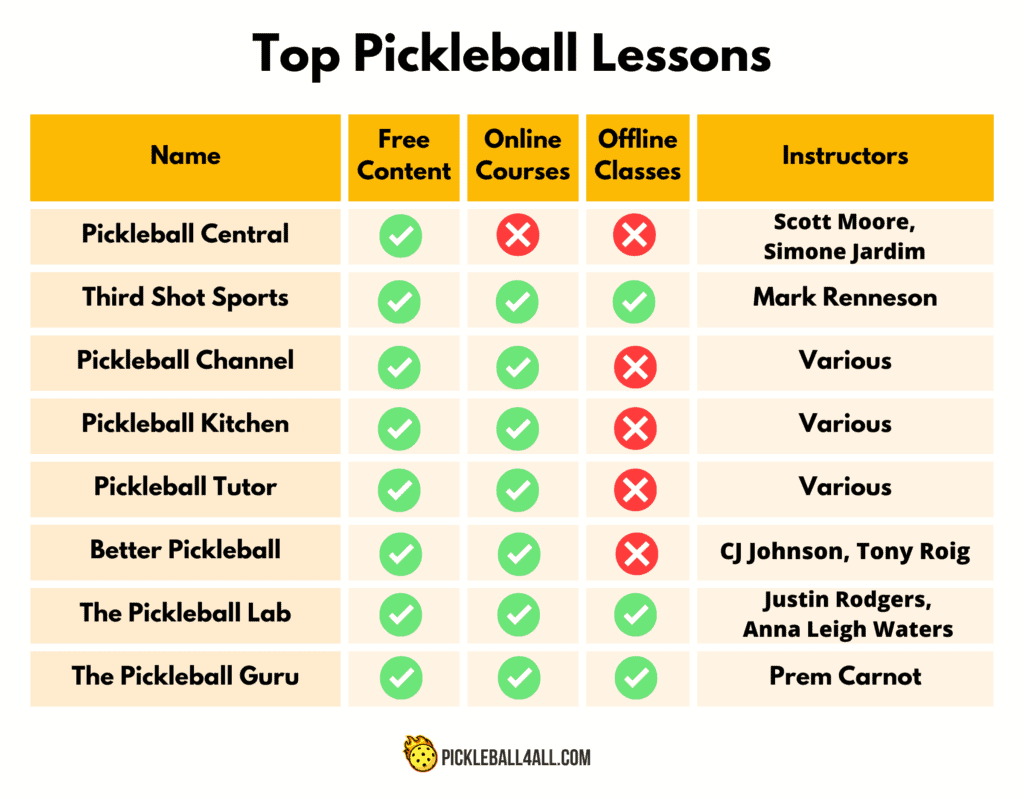 FAQ
What do I need to bring to my first pickleball lesson?
You should wear comfortable athletic clothing and shoes. You should also bring a water bottle, a towel, and any other necessary equipment your coach has requested you to bring. Additionally, it's a good idea to bring snacks or energy bars in case you need a quick boost during the lesson.
How long does a typical pickleball lesson last?
Typically, lessons can last anywhere from 30 minutes to an hour. Some coaches may offer longer lessons or multiple lesson packages.
How much do pickleball lessons cost?
Average, private lessons can range from $50 to $100 per hour, while group lessons may cost anywhere from $10 to $50 per person. Some coaches or facilities may offer discounted rates for multiple lessons or for signing up for a package of lessons.
Do I need to bring my own equipment to a pickleball lesson?
In most cases, coaches will provide all necessary equipment for the lesson, including paddles, balls, and other gear. However, if you have your own equipment and prefer to use it during the lesson, you can certainly bring it with you.
Can I take beginner pickleball lessons if I've never played sports before?
Yes, absolutely! Beginner pickleball lessons are designed to teach the game from the ground up, so no prior experience is necessary.
Are there any free beginner pickleball lessons?
Many local parks and recreation departments offer free or low-cost lessons for beginners. You can also search for free pickleball clinics and workshops in your area. In addition, some pickleball equipment retailers and manufacturers offer free lessons as part of their marketing efforts.
What is pickleball and how can I start with a beginner's lesson?
Pickleball is an exciting, low-impact sport that combines elements of badminton, tennis and table tennis, and is played with a paddle and a plastic ball. A beginner's pickleball lesson is a great way to get started. These lessons often cover the basics, like how to hold a paddle, how to serve and return the ball, and some basic strategy. Many clubs and clinics offer pickleball lessons for beginners.
How can I improve in pickleball? Can private lessons help?
If you're looking to improve your pickleball game, taking private lessons can be a huge help. A good instructor or coach will provide personalized instruction catered to your skill level, which can help you better understand the game and improve your skills. They can teach you about pickleball strategy, how to move on the pickleball court, or even specific techniques like dinking.
What distinguishes an intermediate player in pickleball and how to get to that level?
An intermediate pickleball player typically has a good understanding of the game play and can maintain a rally with consistency. To reach this level, consider enrolling in lessons tailored for intermediate players. These lessons will build on the basics and introduce more complex strategies and drills. Practicing regularly, both in clinics and in casual or competitive play, is also key to improvement.
Are there specific requirements for pickleball equipment?
Yes, playing pickleball requires a few specific pieces of equipment. This includes a paddle, which is usually made of lightweight composite materials, and a plastic ball with holes, similar to a whiffle ball. Some players also choose to use a racquet cover to protect their paddle. When playing pickleball on a court, it's also important to wear comfortable and supportive shoes.